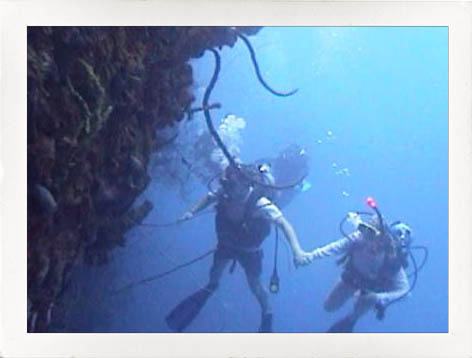 Tad's the man to talk to about Providencia, check it out you won't be disappointed
"Providencia Columbia 03/03/10 – 03/12/10 Flying to Providencia from Los Angeles is very easy just catch a red eye, 1: LAX to Panama then a short flight to San Andres then jump on a plane to Providencia, it's a lot easier than it sounds all this for $550.00 on COPA Airlines plus the flight from San Andres to Providencia about $200.00. COPA airlines does run specials to San Andres just check or better yet get on their mailer. I was on Providencia around 2:30pm that afternoon with a ride waiting to take me to Sonny's Cabana's where I'll be staying for the next ten days. My son David will be flying in from Raleigh leaving at 6:00pm via Houston through Bogota to San Andres on Continental Airlines, then a local flight to Providencia arriving around 1:00pm the following day.
Sonny Cabanas basic accommodations with two double beds, refrigerator, air conditioning, satellite TV available one or 2 English stations, no hot water but water is warm enough from the outside weather. Leonor the manager/owner with her husband of the place, a nice lady who will answer any questions you have about the area including local restaurants and were nice enough to get me a case of water when requested and no mark up. The rooms were cleaned every day along with sheets and towels, changed daily if wanted. We only ran the A/C at night and during the days the windows were open with a nice breeze. We were hardly in the room except at night to sleep.
The food was good; breakfast every morning and dinner each night. The restaurant was next door serving a basic breakfast of fresh juice, eggs to order, and fresh hot coffee. At lunch you're on your own, a few places within walking distance. Dinner was good Italian food, choice of salads, pasta, and some great tasting pizza with homemade pizza dough. The restaurant personnel were very nice especially the owner, cold beers available, I suggest Club Columbia. Side note on beers most places served Club Columbia and a few other local brews also Old Milwaukee and Miller in the can.
We were diving everyday at Sonny Dive Shop, owned by Gerardo the son of Leonor, a short walk from the cabana (3 to 5 minutes). We met every day at the shop at 9:00am (remember island time) for the start of our 2 tank dive. We also had two night dives and a third tank on three of the days. David rented BC and regulator, no problems with gear rentals all seemed to be on the newer side and well cared for, masks, fins and wet suits also available. The dive master "Speedy" was fantastic along with our boat Captain "Mr. Anderson". The dive sights were all close to the shop, the longest boat ride about 30 minutes from the shop, but who cares your diving The water temperature in March 79*, we never got cold diving. We both dove with full wetsuits might have been cold with just a shortly after multiple dives. I have seen better fish life in other places but did manage to see several turtles, several reef sharks; variety of eels, a lot of free swimming eels. The coral was in great shape and visibility 70++ feet on all dives. There were not a lot of juvenile fish which for such a beautiful diving area, it was very disturbing. I went on the best night dive ever at a site called Tette's Place, not to be missed. I would also check out Nicks Place, Felipe a swim through going up, start at about 75ft and end up at 30ft, The Whole, and The Wreck with largest nurse shark I've ever seen, Nicks place is several dives sites with a great wall. Speedy the diving Rasta man makes your diving a true experience. I can't say enough on how interacted with my son David teaching him about the local area and the marine life especially on that night dive. David still talks about the night dive and Speedy. There were some things they could improve on. They got to get a canopy on that boat. Some refreshments between dives, fresh fruit and water would be perfect. Possibly pull in somewhere between dives for the surface interval. Speaking of intervals Speedy needs to increase the time between dives. Several times I had to speak up for more time. He had no problem with the extra time; he does need to watch the service intervals.
All in all a great diving trip well worth the few plane rides. The bang for the dollar is excellent. Tad's the man to talk to about Providencia. If not diving in the afternoon some nice beaches all within walking distance. All serve cold beer with friendly locals, never worried about safety walking around. Check out the Rasta bar Richard's worth the walk, about 30 minutes, beautiful beach, a bar with reggae music, cold beers, chairs and hammocks nice relaxing afternoon. Check it out you won't be disappointed.
Richard Fairweather